Reading gardeners create boreholes to beat hosepipe ban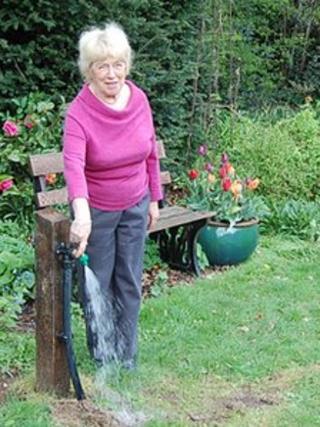 Gardeners are turning to ingenious methods to beat the hosepipe ban, including paying thousands of pounds to drill for their own water.
Vera Morris moved into her house with its half an acre garden 37 years ago, and remembers her first summer during the drought of 1976.
"The first year, we'd just moved in and we'd planted a few things, such as some apple trees," said the 74-year-old.
"That was a really, really hot summer. I remember it being a really big job, trying to water everything with a watering can.
"Now we have our own borehole it means we are free of any restrictions."
Mrs Morris's borehole cost around £7,000 and involved drilling 80ft (25m) into the ground to reach underground aquifers.
However, as "passionate gardeners" she and her husband Trevor had been thinking about creating a borehole for several years, and booked in the workmen before the hosepipe ban even came into force.
"We do have a large garden in Caversham. We use quite a lot of water in our garden, and it is very important to us.
"We both love it," she said.
'Green solution'
Following a month of "chaos" in which a large rig drilled into the ground in her garden she now has three stand pipes which will keep the couple's fruit, vegetables and flower beds watered.
Any landowner is legally permitted to drill for and extract water and domestic boreholes allow home owners to extract 4,400 gallons (20m3) every 24 hours.
However, Mrs Morris said they would not use all the water available.
Boreholes cost between £3,000 and £15,000, and the water can be used for human consumption if it passes safety tests.
However, some have criticised the use of private boreholes as one rule for the rich and one for the poor.
But Tony Brown, 51, who runs AG Brown Drilling in Suffolk, said it was not just about "people with big houses trying to get around the ban".
"Boreholes are a very green solution," he said.
"It's environmentally friendly as it doesn't have be pumped miles through pipelines and be chlorinated."
He denied that private boreholes used up waters from underground aquifers, and said more water was lost through leakages in pipes constructed by water companies.
"Golf courses, racecourses, people with small holdings, farmers, have always have been our biggest customers.
"We do a lot for pig farms, as the farmers have to move their pigs around to different fields.
"We have some customers who have never been on the water mains."
Mr Brown said he had been "really busy" since the hose pipe ban started.
"We're only a small business, so it's hard to keep up with the demand," he said.