Toy battleship HMS Terrible sells for record £76,000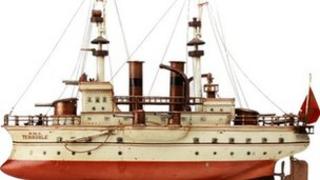 A rare steam-propelled toy tin-plate battleship has become the most expensive single toy ever sold in the UK after fetching £76,000 in Berkshire.
HMS Terrible is part of a lifetime collection of toys and trains which belonged to Ron McCrindell.
Auctioneer Hugo Marsh said: "As far as we are aware it is the most expensive single toy sold in the UK."
The 62cm vessel was among 340 lots of toys owned by the late Mr McCrindell, which sold for a total of £284,552.
The collector, who died in August 2011 aged 91, starred in the BBC Two programme Ron McCrindell's Toys, in which he sailed the battleship on Hampstead Ponds in north London in 1972.
HMS Terrible was made by German toy-maker Marklin in 1905, famous for making transportation models and train sets.
It was sold to an anonymous overseas collector.
Mr Marsh said: "The battleship is the most expensive toy we have sold. Our valuation was between £40,000 to £60,000 so we're delighted."
The items were on sale at Special Auction Services in Newbury.