Vote 2012: Tackling Reading's traffic problems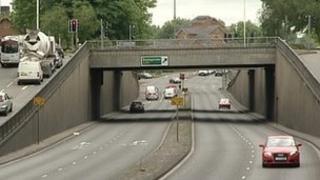 In November 2011, residents in Reading took part in a survey to say which council services most needed improving.
Top of the list was the level of traffic congestion in the town.
Ahead of the local elections on 3 May, BBC News has spoken to representatives from the main parties on the borough council to find out how they would tackle the issue.
Conservative councillor Dave Luckett said: "Labour's one-way Inner Distribution Road (IDR) plan was one of the deciding factors for me to get into politics.
"I couldn't stand by and watch my local council waste £1m of resident's money on something that residents didn't want and quite clearly would make the situation worse."
The controversial £8m plan to turn the town's ring road into a one-way system was dropped in September 2007.
The Liberal Democrats and Conservatives both say Labour squandered £1m developing the scheme.
'Needs more investment'
Daisy Benson, the Lib Dems group leader, said: "Money is tight. So we need to look carefully at options and ensure that residents are more fully involved in solutions to avoid situations like Shinfield Road."
This was a traffic scheme that both parties accuse Labour of bungling.
In September 2010 the council was deluged with complaints when a traffic light system on Shinfield Road was installed to replace two mini-roundabouts.
But the council's Labour leader, Jo Lovelock, rejected the criticisms as hypocritical.
On the subject of Shinfield Road she said: "When the Conservatives and Lib Dems led the council as a coalition in 2010 they had the opportunity to do something different but they chose to wait for the outcome of a review by an independent traffic research company.
"All we've done is implement their findings."
On the issue of the IDR she was equally dismissive of their accusations and said it was "not wasted money".
"A lot of improvements have come forward since that preparatory work was done and we've had an independent commission that has recognised that," she said.
All the councillors agree that Reading needs more investment in public transport.
Mr Luckett said: "We would implement a major bike-hire scheme on the lines of London's scheme together with the supporting infrastructure."
Ms Benson said: "We are campaigning to get the council to speed up this project and secure funding.
"We would also look to do more to reduce the number of lorries using Reading as a cut through."
Ms Lovelock also said her party wanted to stop lorries "using the town as a rat run between the M4 and M40" and "would prevent them from leaving designated routes by using technology to track and fine them if they do".