Crowthorne Forest trees planted after wildfires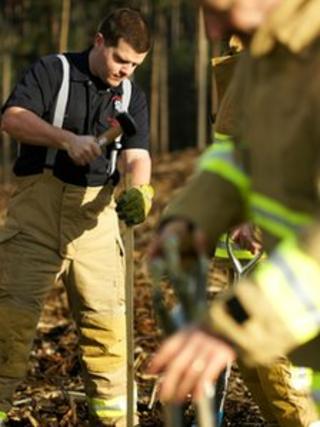 A total of 60,000 new trees have been planted in a Berkshire forest a year after some of the worst wildfires ever seen destroyed acres of woodland.
Crowthorne Forest is beginning to rise again from the ashes following a six-day replanting programme.
Residents who fled their nearby homes during last year's fires were among those who helped plant the new species.
Last May, fires raged for three weeks, destroying about 100,000 trees.
Work to clear the 85 acres of woodland began earlier this year, including reinstating firebreaks and tracks which were disrupted as firefighters fought the blaze.
A dozen new ponds and 2km of interconnecting ditches have also been enhanced.
A greater variety of species, many of which will be more resilient to drought, are among the new generation of trees including familiar Scots Pine, sweet chestnut and Altas Cedar.
Nick Hazlitt, from the Forestry Commission, said: "This is not the end of the recovery.
"The first four to five years of a tree's life is when they are most vulnerable. We need to look after these young saplings, nurture and tend to them while they become established.
"We extend our greatest thanks and appreciation to everyone that has given up their weekends to help the recovery."