Diamond Jubilee Pageant horses being flown in from Oman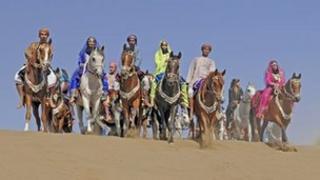 The first foreign horses due to perform at the Queen's Diamond Jubilee Pageant in Windsor are flying in from the Middle East later.
Nine grooms and a vet will travel with the 70 horses from the Royal Cavalry of Oman on the seven-and-a-half hour flight.
They were due to arrive about 16:00 BST, but the flight has been unable to take off due to a sandstorm.
The pure bred Arabian horses will be stabled in the grounds of the castle.
The pageant, which has taken has taken two and a half years to organise, will take place on four consecutive evenings from 10 May.
Organiser and director Simon Brooks Ward said: "It's the biggest event build outside of the Olympic Games this year. We've got a 45m by 12m Buckingham Palace lookalike as a stage."
It features more than 550 horses and more than 1,000 performers from around the world including Rolf Harris and Susan Boyle.
The Queen and HRH The Duke of Edinburgh will attend the final performance on the Sunday.