Man who raped McDonald's worker in Windsor in 1986 jailed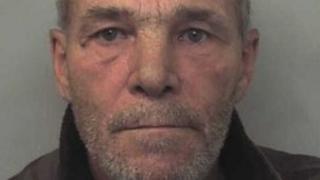 A man has been jailed for eight years for raping a McDonald's worker in 1986.
Alexander McGuire, 61, of Sandy, Bedfordshire, had previously been cleared of raping the woman in Windsor, Berkshire, 26 years ago.
New forensic techniques allowed detectives to recover a DNA profile which matched McGuire, Reading Crown Court heard.
His victim Joy Smith, now aged 53, who waived her right to anonymity, said a "shadow" had hung over her for decades.
McGuire admitted the rape in March this year.
Forensic evidence gathered during the victim's original medical examination was re-examined using new techniques, with a one-in-a-billion chance the DNA profile revealed was not that of McGuire.
'Nightmares are made'
The court heard that McGuire attacked married mother-of-three Joy Smith, then 29, while she was at work in the McDonald's restaurant in November 1986.
Mrs Smith, who has waived her right to anonymity, was on a late shift and went down to the restaurant's lower area to use the toilet at about 21:00 GMT.
She was raped as she emerged from the cubicle.
McGuire was arrested some months after the attack and charged, but found not guilty on the orders of the judge despite Mrs Smith picking him out of an identity parade.
Years later, her ordeal was reinvestigated by Thames Valley Police's major crime review squad and they were able to pin the attack on McGuire.
Officers applied to the Director of Public Prosecutions for consent for the case to be reinvestigated under double jeopardy legislation contained within the Criminal Justice Act 2003.
McGuire was arrested at his home in Greyhound View, Sandy, last July and the original trial verdict was quashed in December.
Passing sentence, Judge Zoe Smith said: "These are matters on which nightmares are made.
"For your victim, not only did she have to deal with the impact of the rape itself and the terror that she had felt, but such was her distress that she and her family felt obliged to leave the area, leave her job and, because this is a cold case review, we know now the devastating effect that that event had on her life."
Joy Smith, now 53, went to Germany with her husband in a bid to move on with her life but suffered panic attacks and depression.
Standing outside court, Mrs Smith spoke of the "shadow" which has hung over her for more than two decades.
"To see him [McGuire] walk in was a big shock because it was just like yesterday... like I was seeing it again," she said.
"When the judge was summing up, I was watching him and he started breathing deeply and I thought, yes, it's affecting him."
Mrs Smith, who now lives in Darlington, Co Durham, added: "It's just been a shadow hanging over me, constantly there when you go out, the fear that something will happen, it's been constant.
Explaining her decision to waive her anonymity, she added: "I want other women to realise being raped is nothing to be ashamed of - they need to come forward.
'Can do it'
"I have spent too many years being ashamed but I want people to know there's no stigma. Being raped is nothing to be ashamed of.
"I just want them [other victims] to know that they can do it."
The court heard how unspecified "legal submissions" made in McGuire's case in the 1980s led to his acquittal.
Judge Smith told McGuire he would be given credit for his early guilty plea in the second set of proceedings but added: "The court cannot wholly ignore the fact that there was a trial in 1986, so I take that into account when passing sentence upon you."
He will serve half his eight-year sentence behind bars, minus the number of days he has already spent in custody.