The Bishop of Reading on canal boat pilgrimage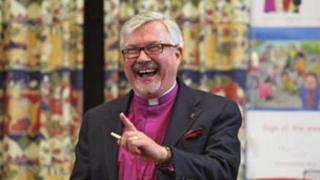 The Bishop of Reading is to take a pilgrimage across the region he serves on a canal boat in order to better "understand the area".
The Right Reverend Andrew Proud is responsible for "old Berkshire" which also includes parts of south Oxfordshire.
Bishop Proud said: "The area I serve is vast, and its shape makes it very difficult for us to feel connected."
His journey starts later at Newbury Lock and finishes in Windsor on Sunday.
'Draw breath'
The former Bishop of Ethiopia and the Horn of Africa said: "A year into my time here, I decided I wanted to do something to bring as many of us together as possible, to help me understand the Area better.
"I'm hoping this will be a chance for us to draw breath and reflect on the fast pace of our life in Berkshire.
"With that in mind, I've invited some of the clergy to join me, each day, free from the business of running the Church, to see how and where we can make more room for God in our lives and our communities."
During his journey on the Kennet and Avon Canal and the Thames he will be accompanied by his wife Dr Janice Proud and his chaplain for the week, the Reverend Graeme Fancourt.
They will be raising money for WaterAid in Ethiopia.
Each evening he will hold a service at a church close to where he stops.
His full itinerary can be found on the Diocese of Oxford website.