Bishop of Reading runs into trouble on river pilgrimage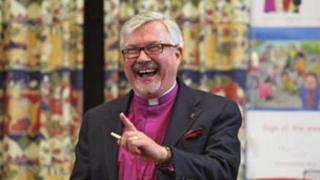 The Bishop of Reading has run into difficulties on his canal boat trip after a power failure closed an electric swing gate at Padworth.
The Right Reverend Andrew Proud was planning a pilgrimage from Newbury to Windsor by canal boat this week in order to better "understand the area".
However, the Bishop is retracing his route as the bridge on the Kennet and Avon Canal is closed.
The Thames, which he was due to join on Thursday, is also closed.
Heavy rainfall has made the waters treacherous on the River Thames for boat users.
The Environment Agency told boaters to stay away from the river on Tuesday due to "very dangerous" conditions.
'Incredibly fast'
The Reverend Graeme Fancourt, who is travelling with the Bishop, said the Thames was running "incredibly fast".
"We've been told that if it rains tonight, it will remain closed tomorrow," he said.
"There's a great sense of camaraderie down here with people on boats in the same position as us."
If the River Thames remains too treacherous to navigate, the Bishop will stay on the stretch of canal between Aldermaston and Padworth and priests will travel to him.
He will go to the commuters' breakfast at St Laurence's Church in Reading on Thursday by car before returning to the boat.