Bucklebury 'royal wedding' phone box celebrated with ballad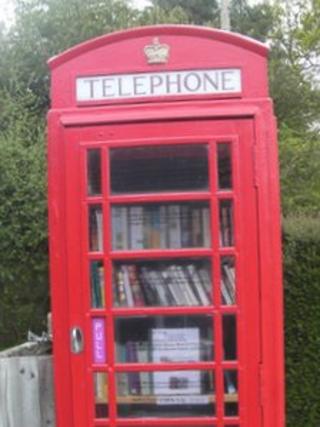 A red telephone box in the Duchess of Cambridge's Berkshire village is being celebrated in a ballad written by her former piano teacher.
The Bucklebury kiosk was broadcast globally by TV crews looking to film an iconic British image ahead of Catherine Middleton's wedding to Prince William.
Piano tutor Daniel Nicholls wrote the ballad to mark the decommissioned phone box's new use as a book exchange.
He described Sunday's ceremony for the kiosk as typically "eccentric English".
Residents will enjoy afternoon tea by the phone box - complete with cakes featuring red telephone boxes prepared by Mrs Nicholls - and enjoy the local village choir, Enharmonic, singing two songs about the kiosk.
The songs form part of the Ballad of Bucklebury, written by Mr Nicholls about the history of the village.
"The phone box was broadcast all over the world last year because all the television companies that came here of course wanted something very English," said Mr Nicholls.
"So they all filmed the pub, the telephone box and the thatched cottage that's next to it and then did their piece about Kate and William.
"So it just seemed a fun thing to do to have a grand opening ceremony, and I decided to write some music for it."
The phone box had been decommissioned by BT and residents were able to buy it for £1.
The phone box, which features the history of the village on one of its panes of glass, will become a free book-lending hub.
"When you go in and get a book you'll notice that Queen Elizabeth I visited here," said Mr Nicholls, "leading right up to Kate and Wills' wedding."
Mr Nicholls taught the Duchess of Cambridge the piano when she was 11 years old and also instructed other members of her family.
He said he still had fond memories of the royal wedding.
"That moment when they all came out on to the balcony was probably the most famous of the day and I remember thinking, 'of the 16 people on that balcony, 25% came here for piano lessons'.
"That's not bad."