Reading abandoned baby: Woman spotted an hour before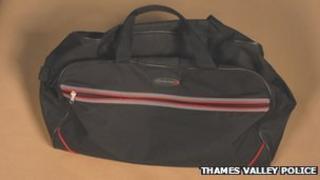 A woman spotted near the place where a baby girl was abandoned in Reading has been asked to come forward by police.
The woman was seen in a car park near the town's Polish centre about an hour before two-to-three-week-old Amelia was found in a holdall on Thursday.
Police said they need to know if she was the mother or a witness.
The child's mother had left a note in Polish with the bag stating she could not provide a decent life for her daughter.
Amelia was taken to Royal Berkshire Hospital for a health check but a Thames Valley Police spokesman said she had since been discharged and was in the care of social services.
He said the woman in the car park was spotted at about 20:00 BST on Thursday.
Amelia was found opposite the Polish centre in London Road just before 21:00 by Father Jerzy Januszkiewicz, from the Polish Church of the Sacred Heart of Jesus.
He had described her as "clean and well" and police said the baby appeared to be unharmed with no immediate evidence of injuries or trauma.