King George VI writing set sells for £5,000 at auction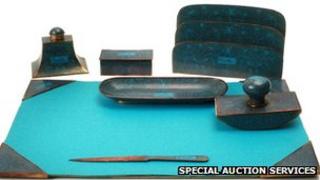 A desk writing set used by King George VI has sold for £5,000 at auction.
The turquoise gilt set was given to the king by his brother the Duke of Windsor, shortly after he abdicated in 1936 to marry divorcee Wallis Simpson.
It includes a letter rack, an inkwell, roller blotter, pen tray, paper knife and a stamp box, each with the king's nickname, Bertie, engraved on it.
Special Auction Services in Newbury, Berkshire, said a US buyer successfully bid for the set over the internet.
It was the only item from the Royal Collection auction bought by the private California buyer.
He paid the lower end of the estimate, which had been set at between £5,000 and £8,000.
'Rich history'
The writing set is engraved with the initials "D & W" - standing for David and Wallis - and underneath is the message: "There, but for the grace of God..."
(David was the name by which his family knew the Duke of Windsor, who abdicated as King Edward VIII in December 1936.)
After King George VI's death in 1952 the set was given away by Queen Elizabeth, the Queen Mother who was said to dislike its association with the Duke and Duchess of Windsor.
Auctioneer Neil Shuttleworth said the Oscar-winning film The King's Speech had added to the interest in the set.
He said: "It could well have been used by the king to write the speeches that inspired the now legendary film.
"It has a rich and colourful history, spanning a rather poignant period of wartime in our nation's history."