Minghella Building officially opens at University of Reading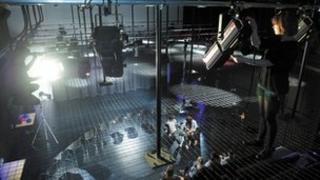 A new £11m centre for film, theatre and media students has been officially opened in Reading.
The Minghella Building at the town's university includes fully-equipped studio theatres, a digital cinema and TV studio.
The facility is named after Anthony Minghella, the oscar-winning director from the Isle of Wight who died in 2008.
Chariots of Fire producer Lord Puttnam conducted the opening ceremony.
It was also attended by Mr Minghella's parents.
The building also houses an extensive archive of films, recorded performances and TV programmes.
Professor Jonathan Bignell said: "We now have a resource that befits our renowned reputation."
Best known for directing The English Patient, The Talented Mr. Ripley, and Cold Mountain, Anthony Minghella was made an honorary graduate of the university in 2006.