Cyclist to finish Land's End ride after cardiac arrest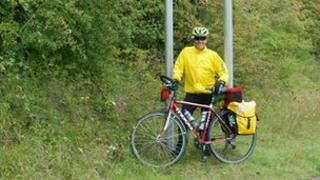 A Berkshire man has decided to complete a 900-mile (1,450km) cycle ride, a year after he suffered a cardiac arrest on his initial attempt.
Tom Patterson, 67, from Woolton Hill, Newbury, was cycling from John O'Groats to Land's End when he collapsed near Bristol.
A friend gave him CPR until paramedics arrived to take him to hospital where he was put in a medically-induced coma.
"I'm approaching it with a certain amount of trepidation" he said.
'Good thing'
Mr Patterson had completed 711 miles (1,144 km) when he collapsed in a hedge on top of Naish Hill on the tenth day of his 13-day ride.
He remained at the Bristol Royal Infirmary for several weeks. Two months later he had an implantable cardioverter defibrillator fitted in his shoulder.
"If something untoward does happen it will shock me back," he said.
His wife Lin described the experience as "traumatic".
She said: "I'm not necessarily 100% behind it but I understand why it has to be done.
"I will be glad when it's the 23rd of June and it's over."
Consultant psychiatrist Raj Persaud told the BBC that Mr Patterson's decision to complete the course was a "good thing to do".
He added: "It's important to encourage patients that have experienced a traumatic event not to let it stop them."
Mr Patterson will restart his journey from the layby where he collapsed on 20 June.
He said: "With the support I've got and with the level of commitment that I feel towards completing it, I'm sure that I'll do it with no problem."