AWE Aldermaston £5bn Trident 'maintenance' funding criticised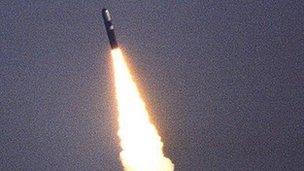 The Atomic Weapons Establishment (AWE) in Berkshire has denied claims from anti-nuclear campaigners that a £5bn government investment is related to "a new weapons system".
Defence minister Peter Luff said the money would help "maintain" the Aldermaston site and its 4,500 jobs.
An AWE spokeswoman said the funding "does not relate to any replacement warhead programme".
AWE Aldermaston develops Trident, the UK's nuclear deterrent.
The MoD announced on Monday it would be investing £1bn a year over five years under its existing 25-year contract with AWE Management Limited.
An MoD spokesman said about 40% of this money would be spent on "production and research facilities" with the rest used for "operating and maintaining the AWE".
Mr Luff said the investment was "essential for our national security".
A spokesman for Prospect, the union supporting scientists and engineers on site, said it was "good news for staff at AWE, good for the company and even better news for the local economy".
He added: "It is also a boost to the UK's stuttering industrial skills base."
Kate Hudson from the Campaign for Nuclear Disarmament (CND) said: "The government keeps telling us we don't have enough money for hospitals, schools and social welfare, but it always manages to find money for nuclear weapons.
"Whenever the MoD announces new spending at AWE they describe it as essential for ongoing maintenance of the site but the scale of spending suggests that this is more than just routine.
"In November last year they announced a further £2bn investment in nuclear warhead development at AWE.
"This sounds remarkably like preparation for a new weapons system."
AWE spokeswoman Rachel Whybrow said the contract "does not relate to any replacement warhead programme".
She added: "The December 2006 White Paper makes it clear that decisions on whether to refurbish or replace the existing warhead are likely to be necessary in the next Parliament."
Related Internet Links
The BBC is not responsible for the content of external sites.