'Watership Down' housing plan scrutinised by inspector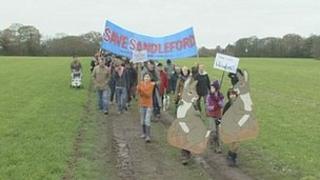 A planning inspector is scrutinising proposals to build 2,000 homes on Berkshire countryside which inspired the book Watership Down.
Government inspector Simon Emerson is examining West Berkshire Council's Core Strategy on housing.
And he could overturn the decision to approve building at Sandleford Park in Newbury.
Say No To Sandleford campaign group and the author of Watership Down, Richard Adams, oppose the development.
In Mr Adams' novel, which was made into a film and TV series, Sandleford was the site of a rabbit warren which was destroyed by developers.
'No fictitious rabbits'
Mr Adams, who was born and raised in Wash Common village, which backs on to land surrounding Sandleford Park, said: "The idea of building houses there will be just like plonking them down in open country.
"This beautiful area ought not to be invaded by a raft of residential developments."
Earlier, West Berkshire councillors voted 33 to 12 in favour of building at the site.
A spokesman for the council said it wants to use the land for some of the 10,500 houses they believe are needed in the district.
Councillor Alan Law said: "To keep the prosperity of West Berkshire going we need more people and more homes - as simple as that.
"And thank goodness this is an inquiry which is just going to deal with planning issues - there's going to be no fictitious rabbits and children's books discussed here."
The so-called Watership Down development is being considered at a public hearing which resumed on Tuesday and will run until Friday.