Windsor roads to close for the Queen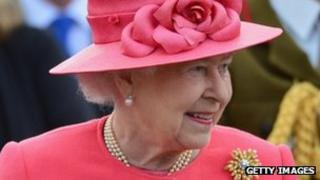 Windsor residents have been warned of road closures as all three armed services visit the Queen for the first time.
About 2,500 troops from the Royal Navy, the Army and the Royal Air Force will parade through the town on Saturday.
Closures will be in force from 09:30 BST onwards. Diversion signs will be on approach roads with police on patrol.
Chief of the Defence Staff Gen Sir David Richards said the Parade and Muster would be "a day to remember".
'Unique relationship'
Roads affected include Sheet Street, Park Street, High Street, Thames Street, Castle Hill, St Albans Street, Peascod Street, River Street, Victoria Street, Windsor Road, King Edward VII Avenue, Datchet Road, Thames Avenue, Barry Avenue, Goswell Road and all streets in the Guildhall area.
Service personnel will assemble in Windsor Great Park. They will march to the castle along the Long Walk, starting after 10:30 BST.
The route takes in Castle Hill, Thames Street and Datchet Road, re-entering the castle at Town Gate.
Gen Richards added: "It is an opportunity to highlight the unique relationship the Queen has with the men and women of the armed forces and of the role she fills in our lives."
The event will include tri-service flypast of current and historic aircraft.
The Queen and the Duke of Edinburgh are also due to give a lunch later at Windsor Castle for a large gathering of sovereign monarchs to commemorate the Diamond Jubilee.