Praise for fire crews sent to Southampton blaze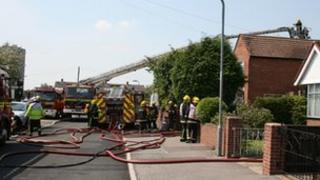 A senior firefighter has praised the crews of six engines that successfully brought a fire under control.
Hampshire Fire and Rescue Service were called to the blaze in Maybush Road, Southampton, at 13.20 BST.
Crews used an aerial ladder platform to extinguish the fire in a ground floor extension which spread to the roof of the two storey house.
Group Manager Dan Tasker said: "This was particularly challenging in today's hot weather conditions."
He added: "A firefighter's kit is designed primarily to keep heat out, but this also acts as insulation on a hot day like today."