Maidenhead man sentenced for handling stolen Altwood School statue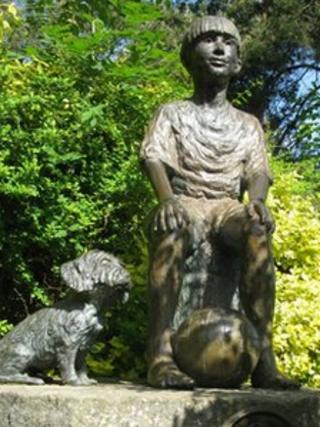 A man has been told to help pay for a new statue after being sentenced following the theft of a memorial to four Berkshire schoolboys.
Adam Brettell, 31, from Evenlode, Maidenhead, was given a 12-month community order after previously admitting to handling stolen goods.
The bronze statue commemorated four boys who died on a skiing trip in 1988.
Judge Ian Grainger at Reading Crown Court also ordered Brettell to work 200 hours unpaid.
Made by local artist Eunice Goodman, the statue of a boy and a dog was taken from Ray Mill Island at Boulter's Lock in October 2011 and was found cut into pieces.
The four boys were from Altwood School in Maidenhead.
An identical bronze statue will be made by Ms Goodman after the school launched a fundraising drive.
The new statue is planned to be in place at the original site by June.