Reading Borough Council office move will 'affect trade'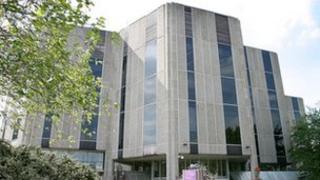 Shop owners say they will lose trade if Reading Borough Council goes ahead with its multi-million pound plan to move offices.
Councillors are expected to vote on Tuesday night to move from the Civic Centre to Plaza West in Bridge Street.
Deputy Leader Tony Page said not moving would be far more expensive than the relocation.
But the manager of Broad Street Mall, Steve Fawke, said the current building acted as an "anchor" for local shops.
'Significant footfall'
He added: "We will survive, I have no doubt about that but the early days will be quite treacherous.
"I just think that the council have ignored or discounted the strategic impact of what could well damage the retail and commercial viability of that part of town."
Reading East MP Rob Wilson said the nature of the business at the shopping centre would change and jobs would be lost as a result.
But Mr Page said the council had no option but to move from the Civic Centre which was in a poor condition.
He said: "Based on a best value for money option, which includes the price of purchasing the freehold of the respective buildings we are being recommended and we are looking to take forward the purchase of Plaza West in Bridge Street."