Reading College fined after liver pate causes food poisoning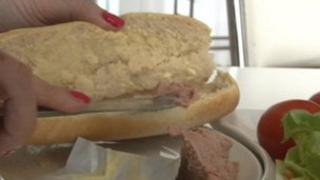 A Berkshire college has been fined £7,000 for food safety offences after a group of elderly people who ate pate prepared by students fell ill.
Reading College admitted breaching food regulations by serving liver pate which had not been cooked to the required temperature.
Principal Lesley Donoghue said the college "deeply regretted" causing food poisoning in 18 people in May 2011.
It was ordered to pay a further £8,000 costs at the town's magistrates' court.
The problems were traced to liver pate prepared by students who were training for catering careers and were overseen by a chef.
'Shocking state'
Trainees had been given the wrong cooking temperature, which was too low to kill Campylobacter bacteria in the raw materials.
Edna Shepherd of the Pine Cones Retirement Club, whose members had eaten at the college restaurant as part of a group outing, said: "Some of the ladies living on their own were in a shocking state."
Lisa Richards of Reading Borough Council it was rare to have a case of food poisoning affecting such a large group of people.
"You can't make allowances for different businesses - they are all serving food," she said.
"When we go out to eat we are eating in good faith and we want to ensure the food is safe and healthy."
The college's restaurant is now operating in new premises.
Ms Donoghue said: "We obviously recognise some of the problems that were caused and deeply regret any illness which was caused to people.
"Clearly we've taken a lot of remedial action - new premises, new facilities, a new start."