New dedicated Earley Parkour site opens to public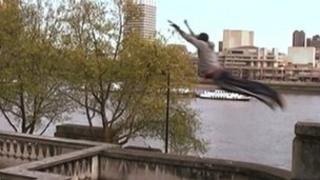 A new dedicated site for the sport of free running, also known as Parkour, has opened in Berkshire.
The facility at Sol Joel Park in Earley has been made available thanks to an £85,000 investment.
The site mimics an urban landscape allowing people to try out the increasingly popular sport in a safe and dedicated environment.
Parkour is a physical discipline focusing on moving around obstacles by running, climbing and jumping.
Sol Joel Park is the first dedicated Parkour site in the region and was made possible by the combined efforts of Earley Town Council and Wokingham Borough Council.
Grant funding, specifically for the use of community play areas, was also secured.
An estimated 40,000 people take part in Parkour across the UK.
The site was officially opened by Mayor of Wokingham Borough Council Bob Wyatt and Earley Town Mayor Pauline Jorgensen.