Maidenhead canals set for revamp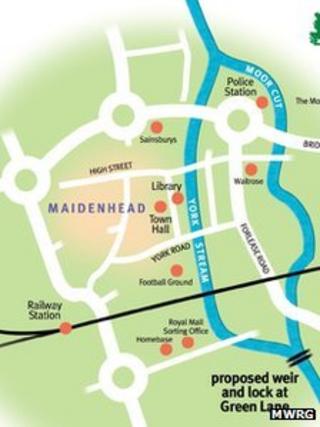 A plan to restore and enhance canals and waterways around Maidenhead has been given the go-ahead by councillors.
Maidenhead Waterways Restoration Group (MWRG) has been campaigning since 2006 to make the town's waterways a more attractive and valued asset.
The Royal Borough of Windsor and Maidenhead planning committee unanimously approved the plan
Councillor Richard Kellaway called the scheme "the most important project since Brunel built the railway".
Panel chairman Derek Wilson said the application had been considered for more than two hours at the meeting on Wednesday and but it was agreed the restoration scheme could play a key part in rejuvenating Maidenhead.
He said: "Panel members were very conscious of the need for specific issues, such as ongoing maintenance and landscaping, to be addressed but we felt that these should not hold up our support for a scheme that promises such benefit for Maidenhead town centre."
'Wider benefit'
John Morgan, MWRG's technical lead, said: "At the moment, we have a derelict stream in one half and the other half with no water running through it at all.
"We're having to look at excavating wider and deeper to make the waterways navigable.
"We believe the scheme is for the wider benefit of the town and we're hopeful developers will come onboard and take advantage of that."
The proposal aims to enhance a 2.1km "ring" of waterways around the town centre, including Moor Cut and York Stream.
The plan includes the widening of a section between Blackamoor Lane and Green Lane to allow narrow boats, canoes and punts to use the waterway.
Work would also include improving existing towpaths, building a new weir and lock and providing day moorings.
The next step in the project is for Maidenhead Waterways Restoration Group to secure funding for work such as dredging and clearance.