Public showcase of Reading's station plans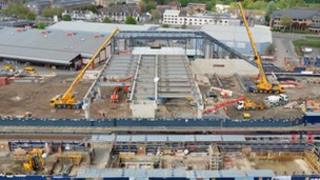 Passengers are being given the chance to meet representatives from groups involved in Reading station's £850m rebuilding project.
Commuters at the station will be able to question staff from Network Rail, First Great Western and Reading Borough Council until 18:30 BST on 15 June.
Network Rail said the project was a third of the way through and on time and within budget.
In July a new 30m-wide passenger bridge will be moved into place.
The new structure, which will be open in Spring 2013, is about three times bigger than the current bridge and will provide access to every platform.
Many of the platforms are also being extended and straightened so they are able to accommodate longer trains.
Managing director of First Great Western, Mark Hopwood, said: "We are now approaching one of the busiest stages of the Reading Redevelopment project and over the coming year customers will start to see real improvements to the station environment."