Royal Ascot: Thousands of racegoers gather on first day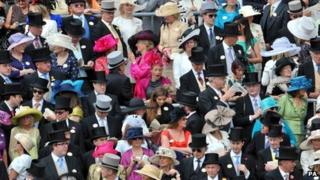 Organisers of Royal Ascot said they had been "delighted" with the standard of dress on the first day of the event.
New stricter dress code rules have been introduced at this year's meeting. They include a ban on fascinators in the Royal Enclosure at the Berkshire venue.
Racegoers were warned by police and organisers to "drink in moderation" and dress "appropriately".
A team of dress code assistants were checking visitors to ensure the style criteria was met.
A spokesman said: "We are delighted with the standard of dress we are seeing in both the Royal Enclosure and the Grandstand. The new dress code has clearly had a positive impact on that.
"We always said that we would adopt the new rules sensitively - using common sense and discretion, especially in the first year of its implementation - and that is what we are doing.
"The most important thing is that people visiting Royal Ascot have an enjoyable time."
The organisers of the annual event said they would provide waistcoats, ties, pashminas and other items at the turnstiles for those who needed them.
Women were able to hire hats for a £50 deposit. Among those taking advantage of the service was Jenny Middlemass, part-owner of Polski Max, which was racing in the Windsor Castle Stakes.
She said: "I'd only found out on Saturday that I was coming here and hadn't realised I would be going through the Royal Enclosure to get to the owners' and trainers' area - and would need a hat.
"It's £50 I can't put on horses, so I might end up saving some money."
'Wishes of racegoers'
The Queen and other members of the Royal Family were among those attending the races.
Footballing stars Gary Lineker, Michael Owen and David Seaman were among the racegoers.
Organisers said they had sent out reminders about the new dress code, which was announced in January, with badges and tickets.
Charles Barnett, chief executive of the racecourse, said: "Ascot is Europe's flagship race meeting and one of the world's greatest sporting and social events.
"We have tried to provide an appropriate dress code that is clear, workable and in line with the wishes of racegoers."
Thames Valley Police warned revellers to "keep their property secure at all times and to drink in moderation to avoid becoming victims of crime or disorder".
Supt Andy Standen, senior police commander at the event, said: "A lot of preparation has gone into making sure that the event passes off as smoothly as possible."
About 300,000 people are expected to flock to venue for the horse racing event, which ends on Saturday.