Royal Military Academy Sandhurst marks 200th anniversary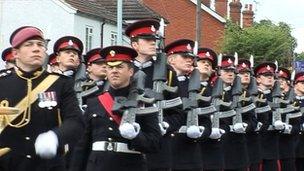 Thousands of people lined the streets of Sandhurst as The Royal Military Academy marked its 200th anniversary with a parade through the town.
The soldiers marched down the Yorktown Road at 13:30 BST, with a parade and inspection taking place at the Memorial Park.
Maj Gen Tim Evans said: "It's a great event because we're joining ourselves as an academy with the community."
The Army trains its officers at the Berkshire facility.
The academy "exercises the freedom" of the town every four to six years but the anniversary parade is one of the largest of its kind.
Gen Evans, who is commandant at the academy, added: "It's really important to know we have the public's support."
Jennie McCracken, mayor of the borough of Bracknell Forest, said: "It's wonderful that the community comes together on a day like this.
"It's absolutely wonderful that Sandhurst and the Royal Military Academy are so aligned."
Related Internet Links
The BBC is not responsible for the content of external sites.