Royal Ascot: Arrests down to 29 over five days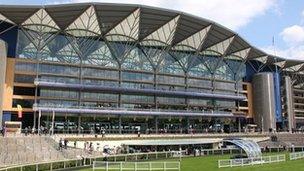 Twenty-nine people have been arrested during Royal Ascot - down from more than 50 last year.
Offences have ranged from drugs possession, being drunk and disorderly and trying to use counterfeit currency, with a number of £80 fines handed out.
The Queen attended each day of the event which attracted almost 280,000 spectators in total.
Police said up until Saturday evening, 29 people had been arrested over the five days.
On Wednesday, a woman was cautioned after pepper spray was found in her bag.
About 75,000 people watched on Saturday as Australian wonder horse Black Caviar scraped home in the Diamond Jubilee Stakes.
A stricter dress code was in place for this year's event with "assistants" patrolling the course helping people to follow the rules.
Supt Andy Standen said: "Royal Ascot is a very complex security and public order operation that requires months of planning and working closely with the event organisers and our partners.
"I am very pleased to say that, so far this year, the policing operation has run smoothly and crime levels are still lower than previous years."
Related Internet Links
The BBC is not responsible for the content of external sites.