New bridge over Thames in Reading in 'green' transport plan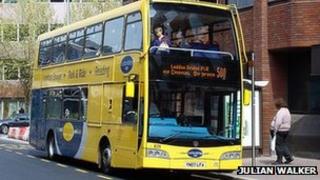 A new pedestrian and cycle bridge is to be built across the River Thames in Reading after the town was awarded £21m to create green transport initiatives.
The council was awarded £20.7m from the Department for Transport's Local Sustainable Transport Fund (LSTF).
The authority aims to cut congestion by up to 10% by creating 7,200 extra daily bus trips, 12,050 daily walking trips and 2,300 daily cycle trips.
There are also plans for new park-and-ride schemes and a bike hire scheme.
Tony Page, from Reading council, said: "In taking forward these important initiatives we will be consulting widely with residents, bus companies, cycling groups, local businesses and all interested parties."
The LSTF is a £560m government funding pot which local authorities nationwide bid for.