The 1st Reading Sea Scout Group's new scout hut opens after fire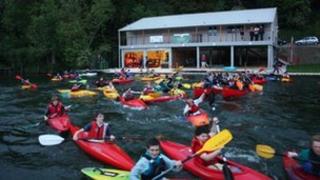 A new scout hut built to replace one destroyed in an arson attack has been officially opened in Berkshire.
The 1st Reading Sea Scout Group lost its original HQ in 2005 along with all its boats and equipment.
For the last seven years it has been working to raise almost £500,000 to pay for the new Wychotes Boathouse on the River Thames in Caversham.
Scout leader Kevin Ware said the new unit was a "very impressive modern building".
It is a multi-storey boathouse which is about 22m by 9m (72ft by 29ft).
It houses the group's two rowing boats and numerous kayaks.
Although the scouts were insured the cover was not enough to pay for a new building that met modern specifications.
The scouts had to raise two thirds of the cost from donations by local and national firms, charities, former scouts, friends and supporters.