Jordan Malutshi stabbed in Reading club 'without warning'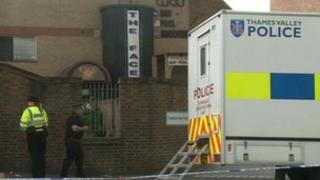 A 17-year-old boy was fatally stabbed in a nightclub "without warning", a club employee has said.
Jordan Malutshi, from Clapham, south London, was stabbed in the heart at The Face Bar in Chatham Street, Reading, shortly before 04:00 BST on Sunday.
John Varney, who works at the club which is managed by his wife, said the doormen told him there were no altercations before the attack.
He said there was a strict policy to ask for ID from those looking under 25.
Reading Borough Council said it would be speaking to the police and licence holder about the incident and would "take action if required".
Mr Varney, who was not working at the time but arrived soon afterwards to find police at the club, said an R&B night had been taking place.
'Laying on floor'
He told BBC News the club was not known for trouble and the incident was "very unusual".
He said: "I heard there was no argument, it had been a really good night.
"We are the same as everyone else with a strict policy that anyone looking under 25 is checked."
He said he had been told some revellers may have got inside through a fire exit and bypassed the doormen.
"There were a lot of witnesses but no-one saw anything until door staff found him laying on the floor," he added.
Jordan was taken to the Royal Berkshire Hospital where he died a short time later.
A murder inquiry has begun into the death, described by police as an "isolated incident".
A post-mortem examination conducted by a Home Office pathologist confirmed Jordan died from a haemorrhage caused by a stab wound to the heart.
Chatham Road was partially closed while investigations took place.
'Longer sentences'
Reading East MP Rob Wilson called Mr Malutshi's murder a "tragedy".
He said: "We must redouble our efforts to educate young people about the danger of carrying knives.
"Many think that they are there for self defence and it too often ends in tragedy.
"I believe anyone caught carrying a knife should be punished severely to ensure there is proper deterrence.
"This should also be bolstered by longer sentences for murderers and life actually meaning life in more cases."