Rail crash level crossing at Ufton Nervet: Bridge considered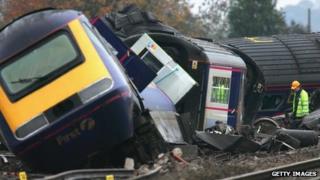 A level crossing in Berkshire where eight people have been killed since 2004 could be replaced with a bridge, Network Rail has said.
Route managing director Patrick Holgate said a bridge could replace the half-barrier crossing at Ufton Nervet as part of a rail electrification scheme.
He added a decision would be made in "about three or four months".
In 2004 a train derailed at Ufton Nervet, killing seven, and in May a man on a moped died at the crossing.
Mr Holgate said: "We are currently due to renew the crossing and are currently looking at all options - from a like-for-like renewal, which would happen on most occasions, to a full barrier, and even consideration for a bridge."
'Barriers down longer'
He added the benefits of replacing the half-barrier crossing with a full barrier would also be weighed up.
"The issue from a road traffic perspective is that the barriers would be down longer," he said, "from a railway perspective it would mean we could increase the line speed".
He said Network Rail would consult with West Berkshire Council and the public, but added putting up a bridge at Ufton Nervet "seems a fairly standard possibility".
Meanwhile West Berkshire Liberal Democrat councillors have started a petition calling for a safer crossing at the site, following the death of a moped rider in May when he was hit by a train.
In the crash in November 2004, seven people died and 130 were injured.
There was another incident at the same spot in September last year, which was a near miss between a train and a car.