Windsor Jubilee Fountain opened in The Goswells park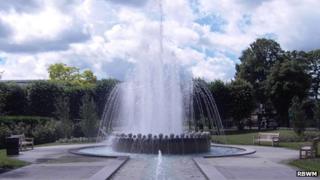 A fountain inspired by the crown jewels has opened in Windsor to mark the Queen's Diamond Jubilee.
The Lord Lieutenant of Berkshire, Mary Bayliss, officially unveiled the Jubilee Fountain in The Goswells park.
The fountain is 25m long with a circular pool at the centre. In the middle of the pool is a geyser with a "crown" of 60 water jets.
It cost £107,000 to build and was sponsored by council contractors ISS Waterers and local developers.