London 2012: Dorney Lake security 'a shambles'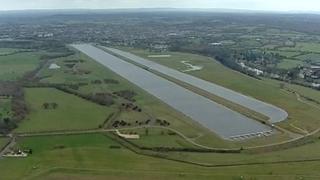 A manager working for G4S at the Olympic rowing and canoeing venue has told the BBC that security at the site is "a shambles".
The man, who did not want to be named, said radios given to staff at Eton Dorney Lake did not work, and they had to use their own mobiles.
He said there was a shortage of trained CCTV operators for the complex on the Berkshire-Buckinghamshire border.
A G4S spokesperson said the site was "fully equipped" with working radios.
The spokesman said the CCTV network was not yet "fully operational" and added this would be fixed before the start of the Games on 28 July.
The security company has been under fire since it emerged last week that it could not deliver enough guards for the London Olympics.
It emerged that the armed forces were on standby to provide an extra 3,500 troops, amid fears the private contractor would not be able to provide enough trained staff in time.
G4S said the Eton Dorney venue was being manned by the military but the venue security control centre was still being manned by G4S staff.
'Everybody stressed'
Speaking to BBC South's political editor Peter Henley, the Dorney Lake manager said: "Each day we're getting about a third the number of staff we expect, which is approximately a third the number of staff that should be rostered.
"Everybody is stressed, everybody's worried and under strain - getting tetchy and snappy with each other.
"What we can't do is magic the missing staff to work - so everyone is stretched."
He said part of the CCTV system has already had to be replaced by army patrols, and a complete army takeover was "on the cards".
"I feel terrible. We feel that we've let the organisation down."
He also said security staff were having to walk several miles a day because transport had not been arranged, and he expected the situation to get worse.
"When visitors start arriving the number of people on site will rise enormously," he said.
"Everyone will be more stretched, especially in the control room. It's more a person safety than a security issue."
In a statement a G4S spokesperson said: "All staff being housed in G4S accommodation during the Games are being provided with taxis to and from work, with those staff travelling from their own homes making their own way to and from the venue.
"We have not experienced any problems with staff unable to report to duty due to a lack of transport."
The spokesperson said recruiting staff had "never been an issue" having received over 100,000 applications and accrediting 20,000.
However, as the Games have got closer, the spokesperson did admit that G4S had been encountering problems with scheduling which had been made worse by people not turning up for their shifts.
"We are working flat out to address this issue, but for the time being, we are extremely grateful to the police and the armed forces for stepping in where needed."
A spokeswoman for the committee organising the Olympics (Locog) added: "We have the best brains in the security business working on this - Home Office, Metropolitan Police, Ministry of Defence and the world's largest private security business.
"Delivering a safe and secure Games is everyone's number one priority.
"Staff are supplied with radios at Eton Dorney as required for their role."