Stolen statue for Altwood schoolboys replaced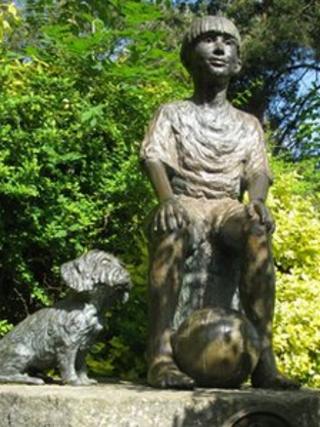 A stolen statue commemorating four Berkshire schoolboys who died on a skiing trip has been replaced.
The memorial to four boys from Altwood School in Maidenhead has been recast using £8,000 of public donations.
The original statue of a boy and a dog was taken from Ray Mill Island at Boulter's Lock in October and sold as scrap.
Adam Brettell, 31, from Maidenhead, admitted handling stolen goods and was given a 12-month community order.
No-one was charged with the theft of the 4ft bronze piece.
The statue, called The Companions, was made by Maidenhead artist Eunice Goodman.
Councillor Colin Rayner said: "We're very lucky that the artist who originally designed and built the model was still around and still in the area, and also she had original sketches and some of the moulds.
"[The new statue] is exactly the same.
"It's made of some of the original mouldings but they couldn't find the football, that's a new part of it, and the dog was repaired, I believe."