Slough red light cameras to be installed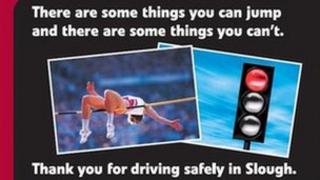 Cameras are to be installed at junctions across Slough to catch drivers jumping red lights.
The council said an "alarming" number of people were risking crashes by ignoring signals to stop.
A recent survey carried out over a seven-day period revealed that 761 drivers jumped red lights.
The authority has also launched a poster campaign and warned drivers they face fines when cameras are installed later this year.
Keith Beasley, road safety officer for Slough Borough Council, said: "Drivers who abide by the law and obey the red traffic lights have absolutely nothing to worry about.
"The introduction of the cameras is one part of a much wider programme designed to reduce road traffic casualties within the borough."