Windsor and Maidenhead look for first town crier in 90 years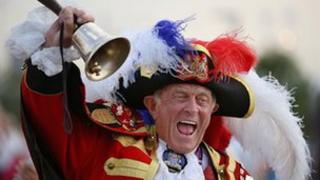 A town crier is wanted for the Royal Borough of Windsor and Maidenhead, 90 years after the last one left.
At the council's most recent meeting it voted unanimously to reinstate the role and is now advertising the post.
Councillor Alan Mellins, who proposed the idea, said the position would be a voluntary role.
But prospective criers of either sex would be expected to perform a trial cry at their audition.
Councillor Mellins added: "When we were looking into this we saw that there was a town crier in Windsor that was recorded up until 1899. Apparently the gentleman died but he was not replaced.
Mr Mellins also discovered that Maidenhead's last crier left his post in 1922.
He said: "A royal borough with all the history and heritage that we have here in Windsor Maidenhead, you'd have thought that a function like the town crier would fit in very well."
Town criers have been used to welcome visitors to the London Olympics.