Plans for specialist school UTC Reading unveiled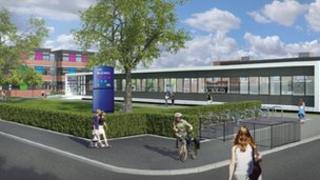 Members of the public are being invited to see plans for a new school for 14 to 19-year-olds that is scheduled to open in Reading in 2013.
The University Technical College, called UTC Reading, on Crescent Road, will cater for 600 students.
It will specialise in computer science and software engineering, taught alongside the national curriculum.
Plans for the £8m development will be on display at Reading College on Wednesday between 18:00 and 20:00 BST.
An ongoing funding agreement between Schools Minister Lord Hill and the sponsors was signed on 30 August.
Sally Dicketts, chief executive of the Oxford & Cherwell Valley College Group, which is the lead sponsor of the school, said: "Now that we have a name, location and this funding secured we are on the right path in seeing the dream of UTC Reading become a reality.
"By 2013 I am confident we will have a leading-edge facility that Reading and the region will be proud of, that can inspire the next generation of computer science and IT specialists through education."