Crossrail: Maidenhead could get 1m extra commuters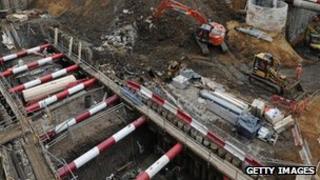 A busy Berkshire commuter station could get an extra million passengers each year once the Crossrail line opens, Network Rail has said.
Maidenhead station currently has three million passengers a year but the firm said this was likely to rise.
It said Crossrail's 10-coach trains would be much longer than current trains and carry 1,500 people.
The £16bn rail link scheme is due to open in 2018 and will link Maidenhead with Essex, passing through London.
Extending platforms
The heads of Crossrail, Network Rail and the Royal Borough of Windsor & Maidenhead met on Thursday evening to discuss plans for a station upgrade.
The council's head of planning, Simon Hurrell, said interim plans would be made public "before the end of October".
He said there would be little change to the station building other than extending platforms to accommodate the longer Crossrail trains.
The main changes would be to the station's forecourt, which currently features a car park and a taxi rank.
"As you come out of the station it's a main area of the town," he said, "we want it to look the right sort of place."
The Crossrail line will pass through 37 stations and run 73 miles (118km) from Maidenhead in the west to Shenfield and Abbey Wood in the east.
The line is expected to carry about 200 million passengers a year.