Reading Pride festival draws crowds of more than 12,000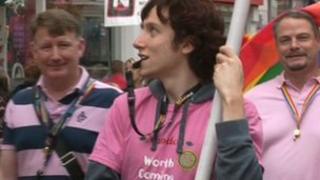 More than 12,000 people attended Reading's ninth Pride festival on Saturday.
The circus-themed parade started from the Civic Centre and was followed by a festival in Kings Meadow.
Performers at the event included a belly dancing troupe, an 80s band and the Thames Valley Gay Chorus.
The free festival, hosted by the lesbian, gay, bisexual and transgender (LGBT) community, aims to help educate people and eliminate discrimination.
Jamie Wake, chairman of the Reading Pride Trust, said: "Most people in society believe that we have full equality but we do not, gay men cannot donate blood unless they do not have sex for a year or get married."
Chair of Reading Pride Laurence O'Meara said he estimated up to 13,000 were at the event during the day, which he said was a success.
He said: "We rely entirely on donations.
"This year I think we have managed to break even, which is great in the current economic climate."