Reading Town Hall Square £450,000 improvement proposal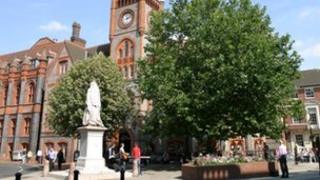 Reading Town Hall Square looks set to undergo a £450,000 refurbishment as part of work to improve the key landmark.
The borough council is funding the proposed scheme from a successful £20m Local Sustainable Transport Fund bid.
New paving, seating and streetlights will be installed across the square.
The work would see the removal of a London Plane tree, planted in 1978, from outside of the town hall. The council plans to replace it.
Councillors will debate the proposals on Thursday and if approved, work could begin early next year.
The London Plane has to be removed as over time its roots have moved away from the surface and lifted the surrounding pavement.
Cabinet member, councillor Tony Page said: "While the council's preference would be to keep the tree, to do so would mean the roots having to be removed and a retaining structure built around it to prevent further damage to new paving.
"There's also a possibility this work could kill the tree and mean we have to remove it once the work has finished."
A new 8m (26ft) tall tree will be planted in its place, with a tree pit dug to allow its roots to establish themselves quickly.
The current Town Hall Square layout was created in the 1980s.