Reading chalk mines stabilisation work completed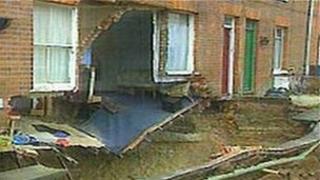 A £4.3m scheme to stabilise historic chalk mines that had collapsed under homes in Reading has been completed.
In 2000, dozens of people in the Field Road and Coley Road area were forced out of their homes when mining cavities from the 1800s collapsed.
Marie Allen and her husband had to leave the area for two years.
She said: "We had relations we went to stay with and then, when we realised it was going to be on-going, we had insurance and they found us a flat."
The final phase of the 12-year project involved detailed ground investigations of the land to make sure there will not be any further collapses.
The area had a long history of brick and tile making which had involved excavating chalk from beneath the ground.
'Very co-operative'
The empty cavities have now been filled with concrete.
Residents have been invited to attend a public meeting to examine the work and speak to the contractors.
It will be held in the Council Chamber at the Civic Offices, Reading, on 18 September from 18.30 BST.
Tony Page, Reading Borough Council's lead member for regeneration, transport and planning, said: "Local residents in the Field Road area have been very co-operative and patient over more than 10 years. This is an important opportunity to 'sign off' on the completion of these major works."