Aldermaston railway bridges reopen after delays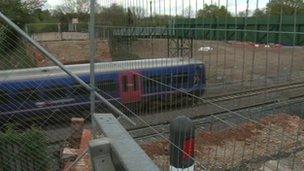 Two Berkshire railway bridges have reopened four months later than planned.
The A340 bridge and Beenham Lockside Crescent bridge in Aldermaston had to be closed to allow the railway line to be electrified.
But structural problems discovered at the same time meant Network Rail engineers had to replace bridge supports.
Local businesses say the delays have affected trade.
Crissy Clemson, who runs the nearby White Tower Nursery, admits the delays have made it a difficult summer.
She said: "The work was supposed to take six weeks, but in all it has lasted six months.
"We're optimistic life will return to normal now the diversions have been removed.
"Sadly, signs telling people we were still open for business didn't go up for several weeks after the delays.
"It's been a tough summer for us anyway with the hosepipe ban and the bad weather, but these road closures almost completely finished us off.
"We estimate we had to throw away between £10,000 and £15,000 worth of stock."
To limit the impact of the bridge closures, Network Rail offered to pay advertising costs to local businesses while extra signs were also installed.
A spokesman said: "We understand the work was disruptive to local businesses and apologise for the inconvenience caused.
"Over the last few weeks, we have been working with them to limit the impact of the bridge closures.
"Electrifying the Great Western railway is critical to improve services on this extremely busy line."
Related Internet Links
The BBC is not responsible for the content of external sites.