Margaret Hodge returns to Slough Town Hall after refurbishment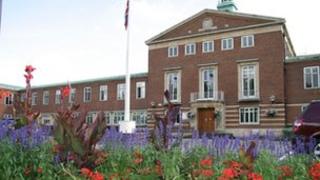 A former minister who ruled against the listing of Slough Town Hall is visiting after its £3m conversion into a school.
Labour MP Margaret Hodge made the decision in 2010 when she was Minister of State for Culture and Tourism.
James Swindlehurst, deputy leader of Slough Borough Council, said a "not fit-for-purpose" building had been turned into a valuable public one.
A Twentieth Century Society spokesman said the failed campaign to list it put it on a "map of civic pride".
He added: "Conversion to a primary school saved the town hall from the wrecking ball and re-use of this landmark inter-war town hall building shows how versatile historic civic buildings can be."
'Excellent environment'
The site forms a two-form entry annex of Claycots Primary School. Currently there are two classes with about 60 children in total.
Natasa Pantelic, commissioner for education and children, added: "As well as breathing new life into the old building, the school is providing an excellent learning environment for local children in response to the high demand for places".
Slough Town Hall was built in 1937, a year before Slough officially became a town.
Its architects Charles Holloway James and Steven Rowland Pierce were also responsible for Hertfordshire County Council Offices and Norwich City Hall, both Grade II* listed.
English Heritage recommended the town hall for Grade II listing in 2008.
But in 2010, campaigners failed to get it registered because it was not deemed to be of "sufficient architectural or historic interest".
The council subsequently preserved the main features of the building but demolished the sections built in the 1970s.
Mrs Hodge, who is now chair of the Commons Public Accounts Committee, is visiting later on Tuesday.