Royal Berkshire Hospital's £1.3m birthing unit opens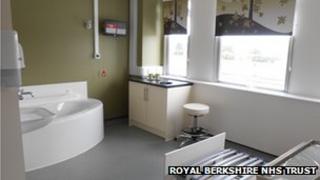 More than 40 babies have been born at a birthing centre in the first two weeks it has been open at Royal Berkshire Hospital.
The £1.3m midwife-led Rushey Birthing Unit enables mothers to give birth naturally without clinical intervention.
The unit, on the top floor of the Reading hospital, expects to deliver around 6,000 babies a year.
It is designed to create a relaxing and calm environment for expectant mothers.
Nationally, there is a drive to increase births in midwife-led units.
Clinical equipment and drop-down beds are hidden from view while mood lighting and birthing pools are also available in the unit's four individual birthing rooms.
'Freedom to move'
Consultant midwife Annette Weavers, said the features aim to reduce mothers' anxiety.
"Being in hospital can actually slow down labour," she said.
"When we designed the new unit, we were really clear that we wanted to create an environment that was less clinical and more relaxing.
"Women need to feel they have the freedom to move around while in labour.
"We know they cope better with contractions if they can do that and aren't restricted to a bed with lots of people standing over them."
Katie Dixon, from Tilehurst who gave birth to Charlie on Wednesday, said: "He arrived in a bit of a whirlwind to be honest, three weeks early.
"But, it's been so calm and comfortable. We had planned to come into hospital to give birth as naturally as possible.
"Being here has meant it has worked out as well as could have been expected."