Honoured soldier Nick Garland 'battled back from coma'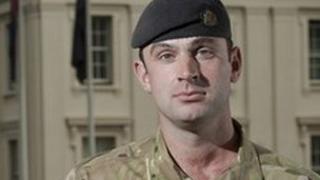 A Berkshire soldier who almost died on the battlefield has been honoured for his bravery.
Capt Nick Garland, 29, lost six pints of blood and slipped into a month-long coma after he was seriously injured in a grenade attack in Afghanistan.
Less than three years later, Capt Garland, from Newbury, was back on the frontline in Helmand Province with the The Queen's Dragoon Guards.
He was "mentioned in dispatches" for his leadership and bravery.
When his patrol base was attacked in 2009, a rocket-propelled grenade exploded in front of his face, forcing the shrapnel into his windpipe, thyroid, an artery and through a lung.
As medics tried to stem the flow of blood from his throat, Capt Garland's heart stopped in a military helicopter. He was resuscitated but fell into a coma for a month.
'Gallantry unquestionable'
Following months of surgery and rehabilitation to repair a collapsed artery and feed blood to his limbs, he was able to deploy with his regiment last autumn as a troop leader of the British Reconnaissance Force (BRF) in Helmand Province.
"I wanted to go back, so I wasn't nervous but I was a little apprehensive about returning," admitted Capt Garland.
"It was harder for my family. My parents are both ex-military so understand what happens and why it happens, and they knew I had to go back because I wanted to.
"It was hard for my wife Katie with the injuries I had before.
"But, all through Sandhurst you are taught that an officer leads from the front and what better way to do that than to come back from injury and go back on the frontline and do the role I did."
During his latest six-month tour, Capt Garland led his troops away from attack after they came under heavy fire from four positions.
His citation read: "Despite being very seriously injured on a previous deployment to Afghanistan, his gallantry has been unquestionable.
"His determination to lead from the front has been inspirational to his peers and subordinates alike.
"He is the epitome of a highly effective, brave and motivated commander."