Philmore Mills' relatives want fresh review over death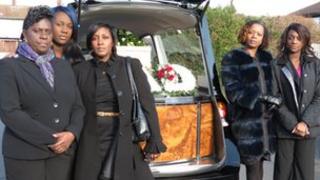 The family of a Berkshire man who died while in police custody are calling for a further independent investigation.
Philmore Mills, 57, was being treated at Wexham Park Hospital in Slough for pneumonia when he died on 27 December.
His family believe he was restrained by hospital security officers and police as he became agitated and confused.
An investigation by the Independent Police Complaints Commission (IPCC) is expected to report its findings later this month.
'Restless and agitated'
Mr Mills, a father-of-three from Langley, looked to be making a good recovery when his family visited him in hospital on Boxing Day.
In the early hours of the following morning, daughter Rachel Gumbs received a telephone call from the hospital to say her father had suffered a heart attack overnight and died.
She said: "At approximately midnight, we've been told, a nurse from the intensive care team was asked to come and see him as he had become restless and agitated.
"She advised he needed to be closely monitored in the hours ahead.
"At around 02:30, we were told, he became agitated and confused and it was because he looked like he was beginning to lack oxygen.
"We're told the nurses couldn't control him or monitor him, so called security.
"Those officers then decided not to touch him and called the police, who arrived around 03:00.
"By 03:13, my father was dead on the floor."
Heatherwood and Wexham Park Hospitals NHS Foundation Trust says it has fully investigated the circumstances of Mr Mills' death.
In a statement, it said: "As part of the investigation, the trust has taken on the views of the family, and has met with the IPCC investigating team.
"The trust has made improvements to its service provision as a result of the investigation, and continues to fully co-operate with the ongoing IPCC investigation and inquest preparation."
The IPCC has now completed its own investigation and told the BBC: "A number of officers have been interviewed as part of the investigation.
"We are in the process of compiling an investigation report, which will be provided to the IPCC Commissioner by the end of October."
The family's solicitor Kate Maynard says there has been no closure in the months since Mr Mills' death.
She said: "It's agonising to wait this long and there's a possibility that could continue as the coroner starts to examine which evidence might be heard at a subsequent inquest."