Reading's Bath Road Reservoir homes given go-ahead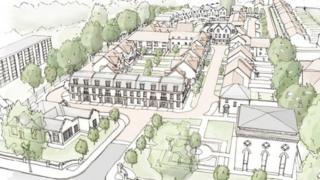 Plans to create 78 homes on a disused reservoir site in Reading have been given council approval.
Thames Water had initially planned to build 96 homes at the Bath Road site but its proposals were rejected.
Reading Borough Council's planning committee approved the revised scheme, but asked for a separate report on the demolition of the concrete reservoirs.
Local campaigners had criticised the development's level of green space.
Committee chairman Pete Ruhemann said it appreciated the "major concerns of residents" over the scale of the demolition process and said it wanted further discussions with the developers over the precautions being taken.
Under the plans, Thames Water intends to build 72 homes, while a Grade II listed water tower will be turned into six apartments.
Recommendations put to councillors included conditions to include 15 units of affordable housing and contributions of £207,000 towards transport infrastructure and £443,332 towards primary and secondary school provision.
A Thames Water spokeswoman said: "This has been a long process but we are relieved that this site can now become part of the future of the town, providing much-needed accommodation to families in the area.
"Bewley Homes will now be able to develop this into an area everyone in Reading can be proud of and are committed to working with local residents to ensure disruption is kept to a minimum."
The Save the Bath Road Reservoir Group had campaigned to get the plans reduced to nearer 50 homes, citing concerns about the density of the houses and loss of green space.
Campaigner Mel Woodward said: "It was pretty much the outcome we expected really as the new government laws on planning meant that the planning committee had no choice but to accept it.
"It's good that Thames Water have to submit a detailed [report] and get it accepted before they can start any of the work, as that way we can ensure that all the conditions can be tightened up and we can properly scrutinise how they plan to tackle the work."