King's Meadow Lido to be put up for sale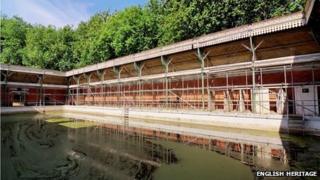 An Edwardian swimming pool site in Reading is to be put up for sale after campaigners failed to raise the money needed to buy it.
Supporters of King's Meadow Pool were given the chance to reopen it but struggled to raise the funds needed.
It is estimated £1.5m is required to get the scheme off the ground, but King's Meadow Campaign (KMC) currently only has about £10,000 in the bank.
Reading Borough Council voted on Monday to put it up for sale.
Councillors said KMC could continue to find further funding and make a fresh bid for the baths.
Council leader Jo Lovelock said the grade II listed building had to be preserved but said she did not want the project to "drift on".
"We also welcome interest from any party wanting to work with the King's Meadow campaigners," she said.
KMC has called for more support from council officials to enable it to secure grants to save the building and said the use of the pool must be preserved.
Anne Jessel, of KMC, said: "The council hasn't closed the door to us, it remains open and we still have a chance.
"If local people do not want the developers to move in, they have to actively show it by donating funds - we need their support more than ever."