Ascot car crashes into house trapping woman and baby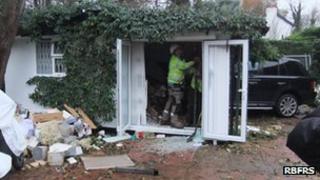 A woman and her baby had a narrow escape after a car crashed into their bedroom.
The Range Rover ploughed into the bungalow in Ascot, Berkshire, just before 08:00 GMT, trapping the woman and her three-month-old baby.
Firefighters had to tunnel through the wreckage to rescue them from under the front of the vehicle and their bed.
They were taken to hospital for treatment, but neither is thought to have been seriously hurt.
Station Manager Adam Stevens described the rescue from the partially-collapsed bungalow as a "miraculous escape".
The woman's father, who was in the property at the time, also escaped unharmed after climbing through a kitchen window.
Police said a 31-year-old had been arrested in Surrey on suspicion of drinking and driving, and dangerous driving.