Richard Roberts completes a year of something new every day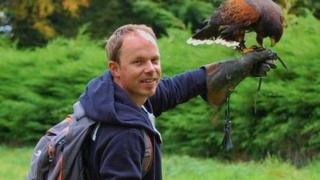 A year ago Richard Roberts had never met an Arctic explorer, abseiled down the O2 arena or conducted a philharmonic orchestra.
But all three are among 366 things the 31-year-old engineer packed into 2012 - all because of a New Year's resolution that he would do something new every day for a year.
He decided to undertake the project to raise money for the Ectopic Pregnancy Trust.
Mr Roberts' wife Sian almost lost her life when she had an ectopic pregnancy, where the foetus develops outside the womb.
He said: "By the time we got to the hospital Sian had lost so much blood, we were told she was just hours away from death.
"I would give anything to have avoided that fateful day. Sadly, that is not possible."
The resulting surgery meant Sian lost one of her fallopian tubes, diminishing the couple's chances of conceiving a baby in the future.
To raise awareness and funding for the charity which helped them cope through a difficult time, Mr Roberts, from Thatcham, Berkshire, took on a new task each day and posted a blog to prove he had completed it.
He said: "It's been an exhausting year. When you work a full-time job after a long day in the office, I just want to come home and park myself on the sofa, but I did not get that luxury this year."
Wrestling champion
Tasks ranged from having coffee with Arctic explorer Sir Robert Swan to spending a night at the Beaulieu Motor Museum, abseiling down the O2 arena and conducting the Aldworth Philharmonic Orchestra.
Referring to the latter, he said: "A thrilling experience that proved that conducting is not as easy as it looks, and conductors do have an impact on the music the orchestra plays, in my case an awful impact."
He added: "The scariest thing I did was getting into the ring with heavyweight wrestling champion, 'The Saviour' JD Knight.
"I am 5ft 8in so this guy towered over me. He was a monster, and he didn't go easy on me either. I could barely get out of bed the next day."
Mr Roberts has rounded off the leap year with his 366th task, the news he thought he and his wife would never share with family and friends.
"Became an expectant father," he posted on his blog.
He said he could not wait to hear the reaction of his family and friends.
'Wonderful end'
Mr Roberts hopes the charity project will give hope to other couples who have suffered similar early pregnancy complications.
He said: "My wife becoming pregnant has been such a wonderful end to our year.
"Since starting this project I have been stunned by the number of friends, colleagues and members of the public who've told me that they have been through a similar experience as my wife.
"I will definitely miss it next year. 2012 has been a thrill ride.
"However, I will never forget the bonkers year I've had. It will be the only year in my life that I will be able to remember something I did every single day."
Mr Roberts has broken his target of raising more than £1,500 in aid of the Ectopic Pregnancy Trust.
Any monetary cost of the tasks either came out of his own pocket, or was donated.
The charity organisation was set up by a group of National Health Service doctors to help give advice about the condition that affects up to 1 in 100 pregnancies.