Queen visits Windsor hospice 25 years after opening it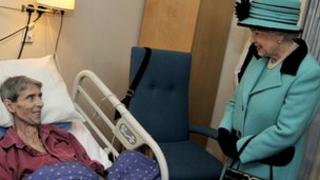 The Queen has visited a Berkshire hospice to help celebrate its birthday, 25 years after she first opened it.
Patients and staff chatted to the monarch during her visit to Thames Hospicecare in Windsor.
The hospice cares for adults with life-limiting illnesses. It was The Queen's third visit to the Hatch Lane hospice having opened an extension in 2002.
The Queen unveiled a plaque marking the anniversary and accepted flowers from 11-year-old Lucy Doyle.
Patient Nigel Millward, 52, from Maidenhead, recalled meeting the Queen 22 years ago while he was an equestrian judge.
Mr Millward had been a jump judge at the Windsor Park Equestrian Club and had shook the Queen's hand during a meeting "on a cold, horrible day".
Former medical director Sue Duncan worked for the hospice for 25 years before retiring in October. She first met the Queen 10 years ago, when she showed her around a newly-opened building.
She said: "She was brilliant, she spent ages with the patients.
"I can't tell you, it's just lovely to see, it's such a small thing but it makes a big difference."